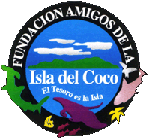 Visiting the mainland of la Isla del Coco is an extraordinary event. There is neither a touristic infrastructure nor a regular access in respect of this unique and exceptional insular territory. Only the few diving vessels include the possibility to make some landings with hiking expeditions - unfortunately bearing a strong conflict with the dense diving schedules.

Scientific and administrational posts exist on land, but one may stay for a longer time only included in official duties on the island. Currently the protective status is that of a national park. The declaration as a World Natural Heritage Site and as an important wetland according to the RAMSAR convention followed.

An own foundation for the protection of this natural treasure was established in 1994.